Welcome to the Non Stop Wrestling Wikia
is a website about the NSW Follow us NSS Wrestling Wiki on Twitter .
Brand
RAW
Smackdown
NITRO
High Impact
Male Wrestler of the Month

Oliver Bisping (November 12, 1997) is an American professional wrestler and manager. He is signed to Smackdown, He is a slammy award winning manager and has helped his clients to a lot of titles. He is also a two time NXT Tag Team champion and is now a tag team champion on Smackdown on NSW.


Featured PPV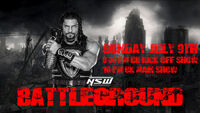 Battleground17 is the PPV Number 5 of season five for NSW on 09.07.2017


Female Wrestler of the Month
Charlotte Omega (October 13, 1987) is an American professional wrestler. She is signed to Smackdown and is manager for American Alpha.


Ad blocker interference detected!
Wikia is a free-to-use site that makes money from advertising. We have a modified experience for viewers using ad blockers

Wikia is not accessible if you've made further modifications. Remove the custom ad blocker rule(s) and the page will load as expected.